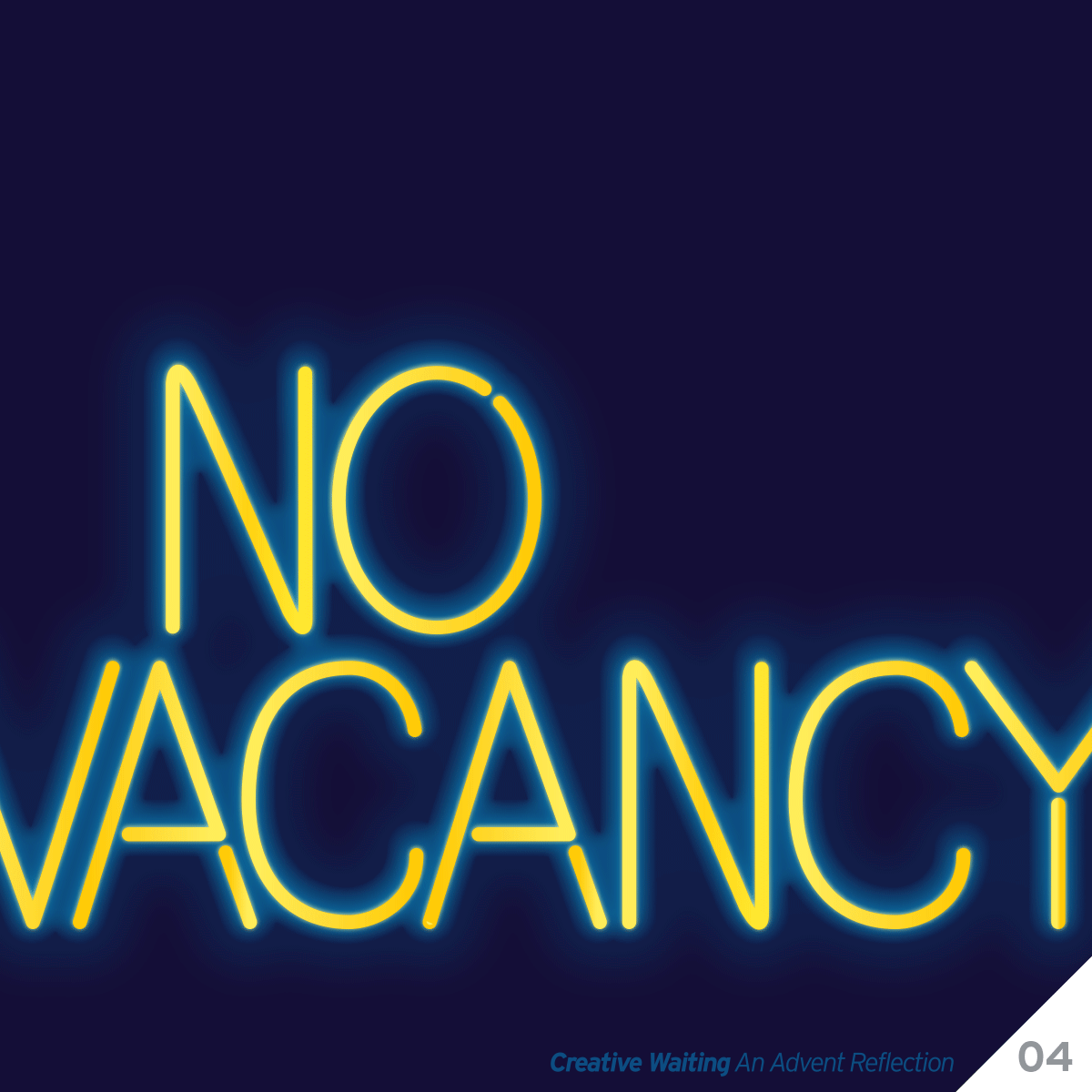 God shows up and turns the world on its head. All assumptions are out the door. Up is down and down is up. The whole story is crazy from start 'til...now.
Yet, I think the story often catches us off guard. We don't have room for disruptions. We make the manger quaint and serene because the reality of God in a feeding trough is too staggering to comprehend. We make the angels cute and chubby because their very existence frightens us. We have no room for the audacity of this story.
The impact is just too absurd.
Kings visiting peasants. God starting his earthly life in a cow stall, oh and as a baby! Social outcasts—shepherds—getting a birth announcement with an opportunity to meet God. It's upside down crazy and it's just the beginning.
Here are the readings for the fourth day of Advent:
Luke 2:4-5, 11, 15
So Joseph went from the Galilean town of Nazareth up to Bethlehem in Judah, David's town, for the census. As a descendant of David, he had to go there. He went with Mary, his fiancée, who was pregnant. While they were there, the time came for her to give birth. She gave birth to a son, her firstborn. She wrapped him in a blanket and laid him in a manger, because there was no room in the hostel.
A Savior has just been born in David's town, a Savior who is Messiah and Master.
As the angel choir withdrew into heaven, the sheepherders talked it over. "Let's get over to Bethlehem as fast as we can and see for ourselves what God has revealed to us."
Matthew 2:1-8, 16
After Jesus was born in Bethlehem village, Judah territory— this was during Herod's kingship—a band of scholars arrived in Jerusalem from the East. They asked around, "Where can we find and pay homage to the newborn King of the Jews? We observed a star in the eastern sky that signaled his birth. We're on pilgrimage to worship him." When word of their inquiry got to Herod, he was terrified—and not Herod alone, but most of Jerusalem as well. Herod lost no time. He gathered all the high priests and religion scholars in the city together and asked, "Where is the Messiah supposed to be born?" They told him, "Bethlehem, Judah territory. The prophet Micah wrote it plainly:
It's you, Bethlehem, in Judah's land,
no longer bringing up the rear.
From you will come the leader
who will shepherd-rule my people, my Israel."
Herod then arranged a secret meeting with the scholars from the East. Pretending to be as devout as they were, he got them to tell him exactly when the birth-announcement star appeared. Then he told them the prophecy about Bethlehem, and said, "Go find this child. Leave no stone unturned. As soon as you find him, send word and I'll join you at once in your worship."
Herod, when he realized that the scholars had tricked him, flew into a rage. He commanded the murder of every little boy two years old and under who lived in Bethlehem and its surrounding hills.
---
If you want this series in your inbox, subscribe here and we'll make sure it's there first thing in the morning starting tomorrow! We'll send you content periodically and of course, you can unsubscribe at any time.