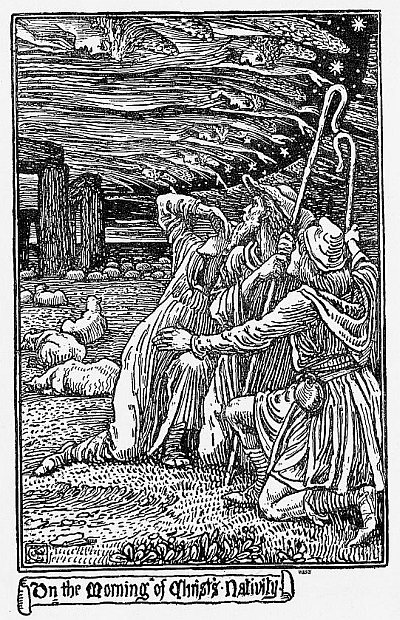 Imagine you are camped out somewhere with a few friends. The night is cold and dark, except for the stars, which are spectacular. The fire has died down and everyone is starting to settle in for the night. Then amidst the silence comes…what? I don't know how to describe it. Angels. Maybe an immense light in the sky? Possibly a rustle or cacophony of wings? Maybe there was even laughter and talk as they came down, like a group of carolers on their way between houses? Could you hear them coming or were they there in an instant?
Imagine the scene and sound of angels decending in _It Came Upon a Midnight Clear_.
Regardless, you rub your eyes and look at your friends and realize there are multitudes of angels (although you've never seen one before, I guess you just know when you see one) that have come to perform for you and your friends. They burst forth in what I have to imagine is the most beautiful sound backed by this amazing sense of release "He's here!" because these angels knew what was up. They knew who this little baby was. And from that they sing,
"Glory to God in the highest heaven, and on earth peace to those on whom his favor rests."
I don't know if it's possible to imagine what that was like for the shepherds, until we get to heaven. It had to be the most terrify and awesome moment of their lives. Think about the extravagance of the night. These shepherds were the first to hear that God had come! From what I've read, shepherds we not high in the social order of the time. But there were a few of them on this hillside, getting ready for bed, or maybe already asleep. And then comes these heavenly hosts. God doesn't send a few angels to share the news, he sends multitudes. It's over the top. It's immense. It's God's birth announcement that his son is born.
That is what is behind this song. That moment. That wonderful moment. It Came Upon a Midnight Clear calls us to that moment in each verse.
I love the fourth verse. Read it through with the picture above in mind.
And you, beneath life's crushing load, Whose forms are bending low, Who toil along the climbing way With painful steps and slow, Look now! for glad and golden hours come swiftly on the wing. O rest beside the weary road, And hear the angels sing!
As Christmas approaches at the end of this week, make sure you hear the angels sing. They remind us of God's extravagance. That God has come and that He brings peace. Peace for your family, peace for your relationships, peace for your soul.
You can read the story in Luke here