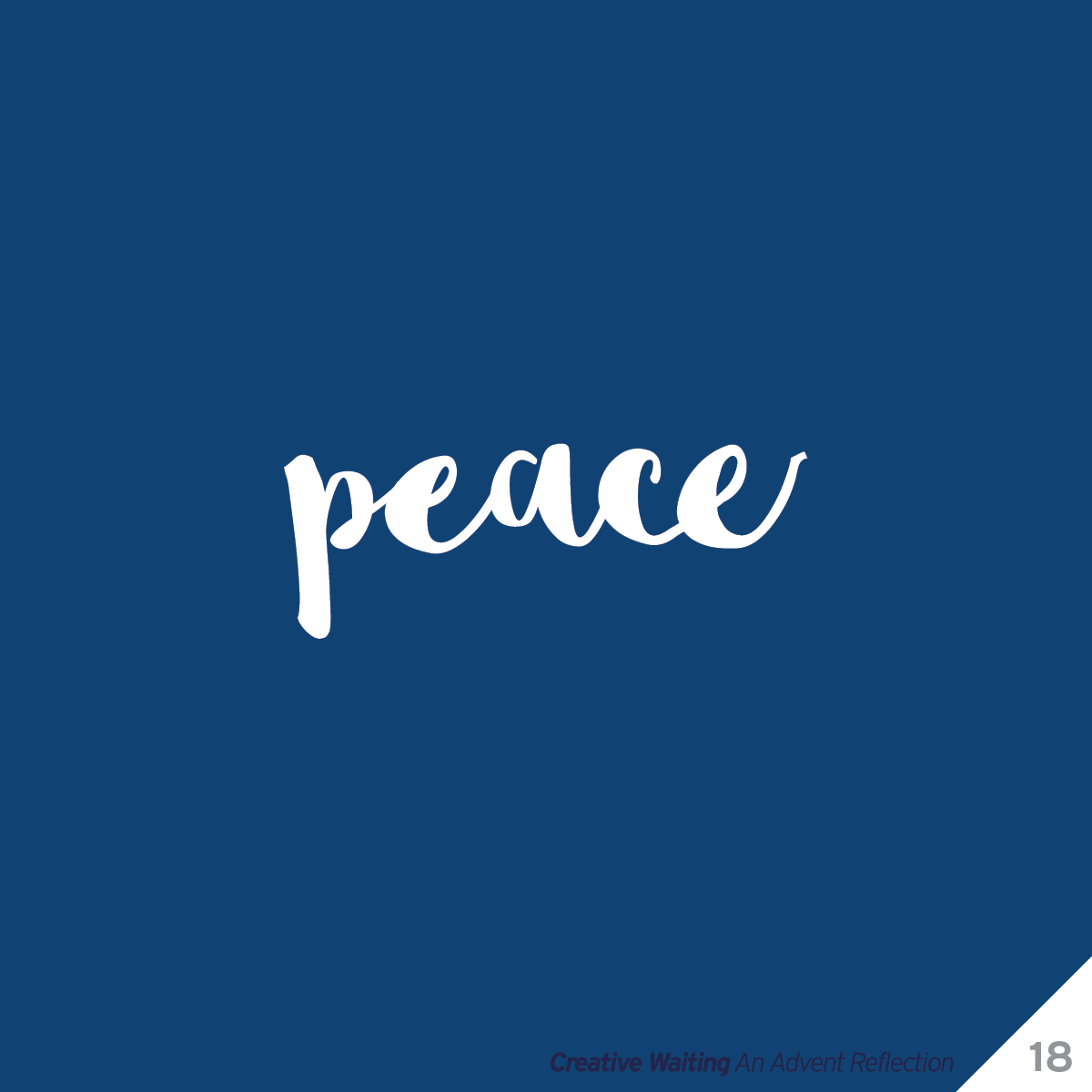 He will bring peace.
Christmas brings with it the message of peace. It's everywhere in the carols. Peace on earth and goodwill towards men.
But what of this peace? It's not an absence of conflict but a presence of the Spirit
The birth of Jesus heralded the gift of peace. Peace for the anguish we wrestle with in our souls. Peace with God, in being reconciled. Peace in times of discomfort. Peace amidst the chaos of our day.
But there is also peace that is not yet here—but that is promised. Peace that arrives when Jesus returns to bring his Kingdom and make all things fully new. This peace is the peace on earth that we sing of and yearn to be manifest. Peace on earth is the promise. Peace that it will be alright even if it all falls apart. Peace that you will be okay even if you fall apart. Peace that requires nothing but simply to receive it.
Hail the heav'n-born Prince of Peace!
Hail the Son of Righteousness!
Light and life to all He brings
Ris'n with healing in His wings
Mild He lays His glory by
Born that man no more may die
Born to raise the sons of earth
Born to give them second birth
Hark! The herald angels sing
"Glory to the newborn King!"
Here are the readings for the eighteenth day of Advent:
Luke 2:13
At once the angel was joined by a huge angelic choir singing God's praises: Glory to God in the heavenly heights, Peace to all men and women on earth who please him.
Isaiah 9:2
The people who walked in darkness have seen a great light. For those who lived in a land of deep shadows— light! sunbursts of light! You repopulated the nation, you expanded its joy. Oh, they're so glad in your presence! Festival joy! The joy of a great celebration, sharing rich gifts and warm greetings. The abuse of oppressors and cruelty of tyrants— all their whips and cudgels and curses— Is gone, done away with, a deliverance as surprising and sudden as Gideon's old victory over Midian. The boots of all those invading troops, along with their shirts soaked with innocent blood, Will be piled in a heap and burned, a fire that will burn for days! For a child has been born—for us! the gift of a son—for us! He'll take over the running of the world. His names will be: Amazing Counselor, Strong God, Eternal Father, Prince of Wholeness. His ruling authority will grow, and there'll be no limits to the wholeness he brings. He'll rule from the historic David throne over that promised kingdom. He'll put that kingdom on a firm footing and keep it going With fair dealing and right living, beginning now and lasting always. The zeal of God-of-the-Angel-Armies will do all this. God Answered Fire with Fire.
Matthew 11:28
"Are you tired? Worn out? Burned out on religion? Come to me. Get away with me and you'll recover your life. I'll show you how to take a real rest. Walk with me and work with me—watch how I do it. Learn the unforced rhythms of grace. I won't lay anything heavy or ill-fitting on you. Keep company with me and you'll learn to live freely and lightly."
John 16:31
Jesus answered them, "Do you finally believe? In fact, you're about to make a run for it—saving your own skins and abandoning me. But I'm not abandoned. The Father is with me. I've told you all this so that trusting me, you will be unshakable and assured, deeply at peace. In this godless world you will continue to experience difficulties. But take heart! I've conquered the world."
---
Want this series in your inbox?
Subscribe here and we'll make sure it's there first thing in the morning starting tomorrow! We'll send you content periodically and of course, you can unsubscribe at any time.
---
_Creative Waiting is a design reflection on the season of Advent. It is released daily December 1st through the 25th. For more on the why behind the series, start here. To begin at the beginning, start with Day 1. All verses are quoted from The Message unless otherwise noted.