Creative Waiting: An Advent Reflection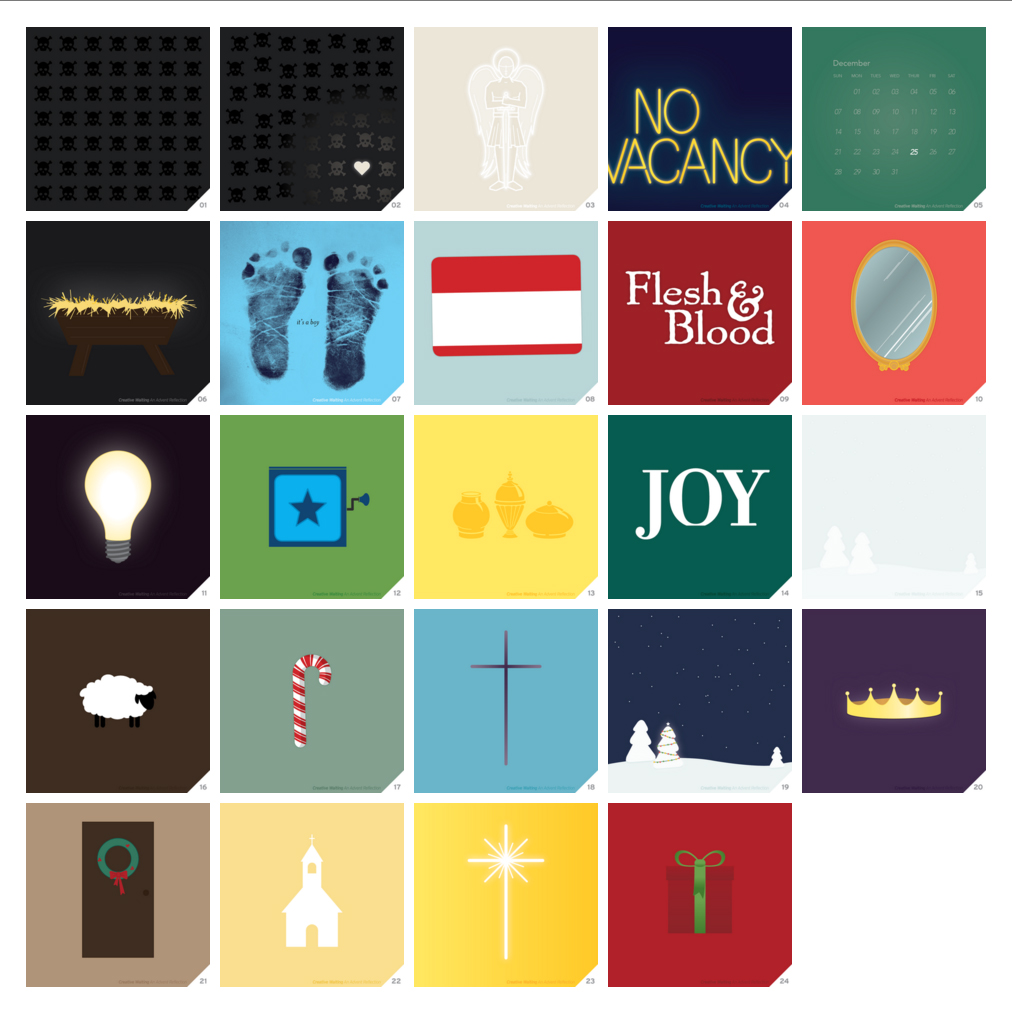 By far the most important and significant event in the whole course of human history will be celebrated, with or without understanding, at the end of this season, Advent. -J.B. Phillips
A design series on the season of Advent
Advent is upon us! Not the countdown-to-Santa extravaganza that it's become, but the older tradition or season of anticipation. The one where you wait for the arrival of God With Us. The time of waiting for the King who came and is still yet to come again. That Advent.
This time of year has always been full of creativity for me. There are seasonal recipes to cook and tasty drinks to make. I actually have a memory of making garland with popcorn and cranberries. Yesterday I cut snowflakes with my daughter out of folded paper. You decorate the tree. You rearrange furniture and hang lights. Cookies are decorated, letters and family updates are written. Snow creations are carved and thrown. Gifts are wrapped. One of my favorite traditions is making a new ornament with my wife as a party favor for our Annual Christmas party. All this to say, this is a season of creativity.
Advent through creating
I have the desire to do something new this year. I want to try and mash my daily experience with Advent—or sometimes lack there of—with making.
So, I'm going to do just that. Growing up, we had this beautiful Advent calendar that my parents made. I'll write more about it in a coming post, but for now, all you need to know is that each day held a small piece of paper and a small felt ornament. Written on the paper are a few verses around an idea or theme. And the ornament was a representation of that idea. The calendar holds many memories for me, in particular, providing visual images of this season of Christmas
This Advent season, I'm going to recreate each day's ornament graphically. They will be simple in and of themselves. As a whole, the twenty-five images will share the same style and color palette. I'll post it along with the verses each day and occasionally add any thoughts or comments. The exercise is mainly for my own benefit—one of reflection. Posting it keeps me committed. But, I hope you'll follow along. Maybe it will provide new visual images for this time of waiting. I'll be posting the first one this evening.
---
If you want this series in your inbox, subscribe here and we'll make sure it's there first thing in the morning starting tomorrow! We'll send you content periodically and of course you can unsubscribe at any time.
Subscribe
---
Creative Waiting is a reflection on the season of Advent through design. I created this series in 2014, releasing it daily December 1st through the 25th. I'm republishing the series this year. Get started with Day 1. All verses are quoted from The Message.